Simmiland Overview
Simmiland, tests your skills at being a God. Build your civilization by the earning coins from the achievements of your people. However, you must purchase cards that will lay the path for your people. Each card picked lays the story of the health and welfare of its citizens. Consequently, as a God, you have to let your people handle their destiny. As a result, Your people could perish in a natural disaster or be caught in an endless vacuum of time. Simmiland is a civilization simulator created by the developer, Sokpop for PC and Mac.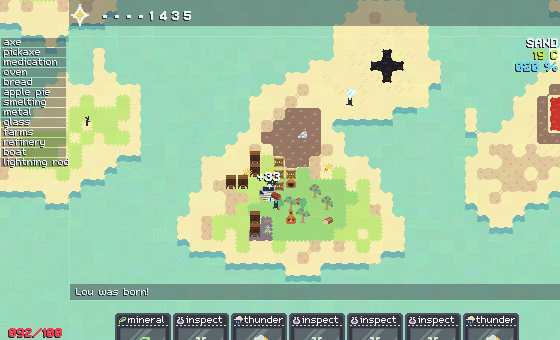 Simmiland Gameplay and Features
The game is loaded with features such as cards that help you tell the story of your civilization. However, the goal is to keep your humans alive by choosing the right cards and create a self-sustaining civilization. Also, the card you choose could be well intended but may turn out to be harmful and kill off your humans. On the positive side, sometimes the biggest disaster can turn into the longevity of your citizens.
The Island
Simmiland Island is a barren untouched land with nothing but desert, dirt and some grass. As you choose cards your land will begin to evolve. Not to mention the longer you can keep your civilization alive the closer it will become a modern world with modest homes and rockets.
Cards
There are basically two categories of cards that include weather and nature. Everything begins with the mankind card but how you use the weather and nature card will depict the fate of mankind. Listed below are
Weather Cards
All of these cards listed below are placeable on your map. How and where you place is important to shaping your Simmiland Island.
Wind: Wind will blow items around and sweep them along the map
Sun: The sun can cause a multitude of effects on your land. For example, drought on your crops.
Rain: Rain can feed maintain your plants or flood them out.
Quake: A quake can destroy villages or uncover much-needed minerals to help build your society.
Thunder: Fire from the sky can burn forests to the ground but can give mankind the power of fire.
Nature Cards
Mineral: These minerals give your humans a chance to create important materials to evolve.
Plant: The plant card can be a multitude of things such as wood, jungle, desert or agriculture vegetation.
Tree: This card is similar to the plant card and used the same way.
Controls
Mouse to interact with Island.
Sell cards with <delete> or <X>.
Scroll through base & human info with the mouse wheel or with the arrow keys.
Navigate the map with ASWD or while holding the right mouse button.
alt+enter to toggle fullscreen.
System Requirments
Simmiland works for both Windows and Mac OS. Additionally, with low specs and simplistic graphics, no major graphics card is needed for maximum performance.
OS: Windows 7 (64 bit)
Processor: Dual Core 2 GHz
Memory: 4 GB RAM
DirectX:Version 9.0
Storage: 500 MB available space
Sound Card: DirectX 9 compatible sound card or integrated sound chip
Mac OSx
OSX 10.9
Processor: Dual Core 2 GHz
Memory: 4 MB RAM
Graphics: Intel HD 4600
Storage: 500 MB available space